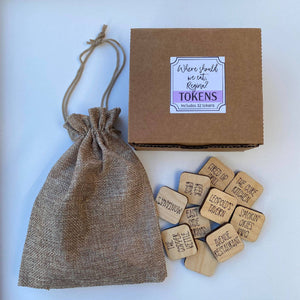 Where Should We Eat, Regina Tokens
Do you have a difficult time deciding where to eat? Draw a token to decide where you're going to eat.
Comes with 32 tiles. 28 of them have words on them. 4 of them are blank so that you can either write your own place on it or use it as a wild card. It comes with a storage bag.
Tiles are approximately 1 1/4". Made from 1/4" birch plywood.