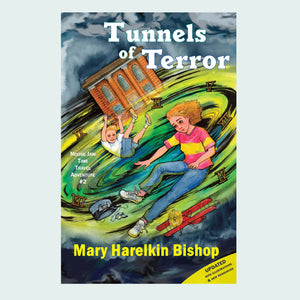 Tunnels of Terror - Moose Jaw Time Travel Adventure #2 by Mary Harelkin Bishop
Andrea doesn't want to go back to Moose Jaw – especially into the terrifying tunnels beneath its streets! But after agreeing to accompany her little brother, Tony, to visit their grandparents in Moose Jaw, she finds herself back in those dark tunnels with him. Soon, Andrea and Tony have both fallen back in time to the dangerous days of the 1920s and are caught in a scary scenario with a gang of criminals. Can they find their courage to expose the crooks for their dastardly deeds? And even if they can, will Tony and Andrea be stuck in the past forever?
This updated second book in the bestselling children's adventure series features language that has been modernized since the book's initial release in 2002. Readers and educators will also enjoy the addition of 10 black and white illustrations, Historical Notes, Useful Resources, Q and A with the Author, Discussion Questions, and You be the Writer sections.