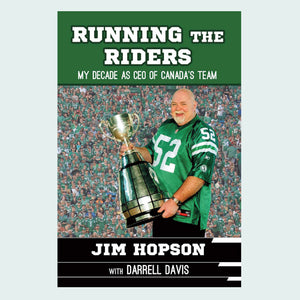 Running the Riders book by Jim Hopson - soft cover
Running the Riders: My Decade as CEO of Canada's Team
By Jim Hopson with Darrell Davis
The Saskatchewan Roughriders were mired in mediocrity. In 2004, offensive lineman-turned educator Jim Hopson was hopeful that the Saskatchewan Roughriders directors would hire him as the team's first full-time president and CEO. He believed that the team, with its incredible fan base, could become a successful business that consistently posted strong annual profits while playing in and winning multiple Grey Cups. And it happened. After a decade under Hopson's leadership (2005 to 2015), the Roughriders became the Canadian Football League's strongest franchise, appearing in four Grey Cup games (winning twice) and selling more team merchandise than the other eight CFL franchises combined. They obliterated their debt and posted a record-setting profit after winning a hometown Grey Cup in 2013, which has been described as the biggest moment in the 105-year-old team's history.   No-fiction.