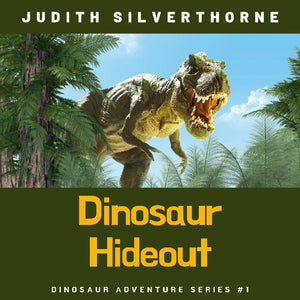 Dinosaur Hideout
How can the remains of long-dead dinosaurs help save a modern family farm?
For Daniel, things can't get a lot worse. First of all, he's an amateur palaeontologist but his dad's always on his case about it. They live on a busy farm, and Daniel's interest in dinosaurs is getting in the way of his chores. Second, while visiting his secret hideout, he has a run-in with Pederson, a secretive and unpleasant neighbour, that leaves him shaken and scared. And, above all, the family's in grave danger of losing the farm - a farm that's been theirs for generations.
Then, Daniel discovers several artifacts that lead him to suspect something hugely important is waiting to be discovered. This is so big it could change the way people look at dinosaurs. And, it could make the land so valuable that his family wouldn't have to move to the city.
Proving it is going to be the trick. There's not a lot of time; the bank's tired of waiting. As Daniel tries to map out a plan of action, he finds himself drawn to the gruff Pederson. Just what is he doing on that piece of land of his? Why does he seem so mean? Is he the key that can help Daniel save the day?