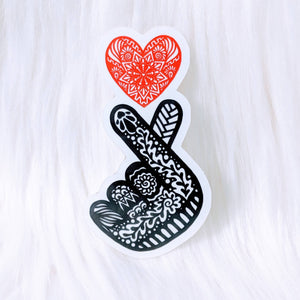 K Finger Heart Waterproof Sticker
K Finger Heart sticker is 1.6" by 2.8" in size. This sticker represents the heart that it makes, when you lay your thumb on your index finger; the thumb and index finger represents the arteries on top of the heart and the rest represents the body of the anatomical human heart. This symbol was popularized by South Korean actress and now widely used by K-pop stars and fans throughout the world.
This waterproof sticker is personally designed with Zentangle patterns and printed on glossy vinyl to perfectly personalize your water bottle, car, gadgets, luggages, and more.