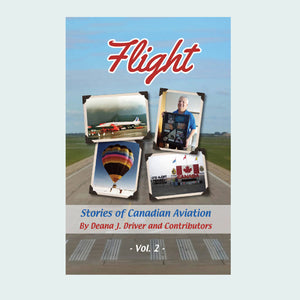 Flight - Stories of Canadian Aviation Vol. 2 book edited by Deana J. Driver
Flight: Stories of Canadian Aviation, Vol. 2
By Deana J. Driver and Contributors

This second volume of the Flight series includes 37 true stories of record-breaking flights, falling aircraft parts, balloon and helicopter trips and more. Canadian pilots, aviation enthusiasts and other writers also share stories of early flight schools, animal obstacles, hijackings, northern rescues, aerial skills, joys, perils, humorous adventures and more in this entertaining series celebrating Canada's aviation industry and its people.
Non-fiction. Short stories.